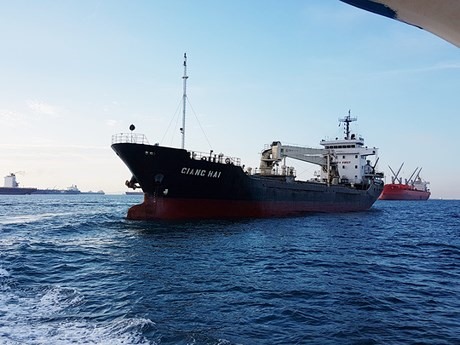 Vietnamese vessel Giang Hải. Crew members of the vessel were abducted by Abu Sayyaf militants off the waters of Pearl Bank, Pangutaran, Sulu, on February 25. — Photo baomoi.com
Viet Nam News
HÀ NỘI —*The Philippines army has transferred three sailors*kidnapped by Abu Sayyaf militants to the Vietnamese Embassy in the country.
The three sailors are Bùi Xuân Viện, Bùi Trung Đức and Nguyễn Quang Huy, who were rescued and handed over to the Philippines army unit on Tawi Tawi Island on November 10.
The security forces of the Philippines also recovered the body of Nguyễn Hữu Trường, who was already dead when he was found.
The victims were all crew members of the vessel Giang Hải and were abducted by Abu Sayyaf militants off the waters of Pearl Bank, Pangutaran, Sulu, on February 25.
The handover took place on Sunday in Zamboanga City, where the sailors received medical treatment.
The Philippines army has supported the embassy in transporting the sailors to Manila.
*The Vietnamese Embassy is completing necessary procedures to send these men and Trường's body back home at the earliest. — VNS
http://vietnamnews.vn/society/417444...uWFQozmYByF.99