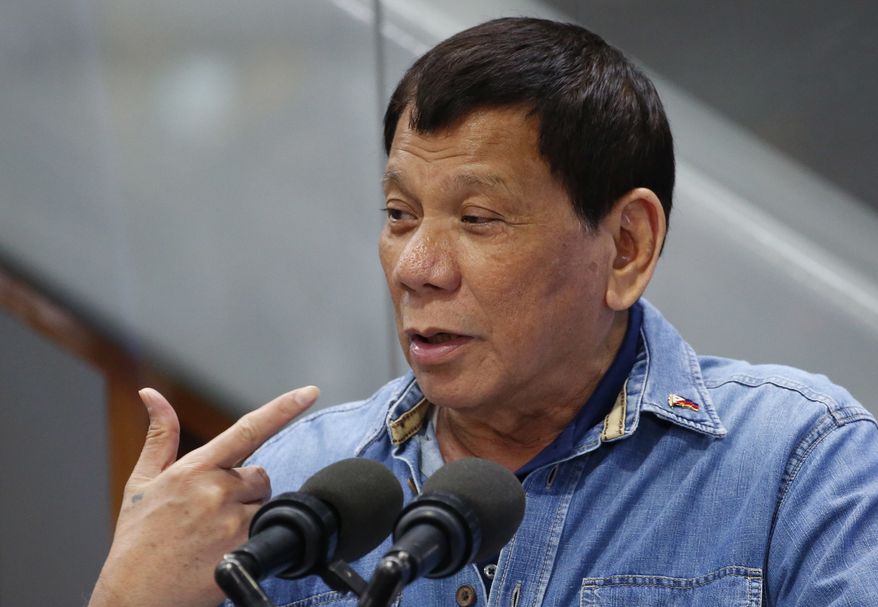 Philippine President Rodrigo Duterte, the so-called "Filipino Donald Trump" who is accused of ordering hundreds of extrajudicial killings in Manila's war on drugs, is a viable threat to democracy in the Asia-Pacific region, U.S. intelligence officials say.
Aside from Mr. Duterte's counternarcotics campaign, which has infuriated international human rights advocates who say Manila's totalitarian crackdown has brutalized Philippine citizens, Malacanang also instituted martial law in the country for the first time since the mid-1970s.
Such actions have drawn concern from the U.S. intelligence community, who labelled Mr. Duterte's government as a destabilizing actor in the Pacific, where democratic governments allied with Washington are already coming under threat from China and their proxies in the region.
"Duterte has suggested he could suspend the constitution, declare a 'revolutionary government,' and impose nationwide martial law," according to an annual report to Congress on worldwide threats issued by the Office of the Director of National Intelligence earlier this month.
On Wednesday, Philippine officials dismissed such claims of "autocratic tendencies" within Mr. Duterte's government.
"He adheres to the rule of law and remains loyal to the constitution," presidential spokesman Harry Roque said in an interview with local news outlets.
"We view this declaration from no less than the intelligence department of the United States with some concern," he added.
In December, Manila opted to extend military control over the country's volatile southern provinces, over fears that Islamic State-linked militant groups are poised for another attempt to overrun the battle-scarred region.
The region has been under martial law since June, after Manila launched a counteroffensive to flush out members of the ISIS-linked Maute Group who overran the southern Philippine city of Marawi in May. Government troops, with air, logistics and intelligence support from U.S. special operations forces recaptured the ISIS-held city in October after months of brutal, street-by-street fighting.
His effort to extend military rule in the southern Philippines is also conjuring up memories of former Philippine strongman Ferdinand Marcos, who implemented years of martial law in the country to suppress opposition and maintain his hold on power in the 1970s.
https://www.washingtontimes.com/news...igo-duterte-t/