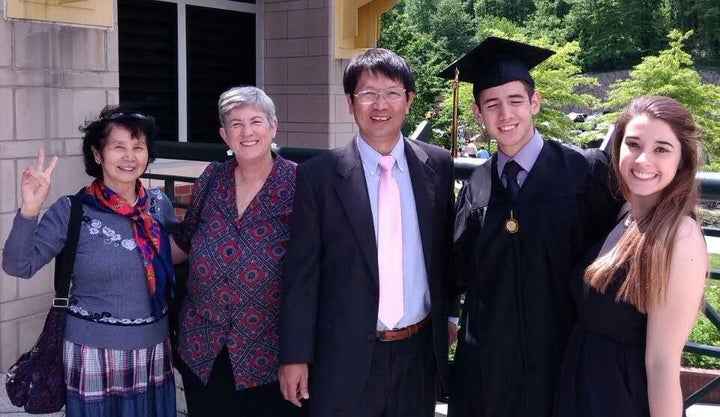 Ben Cao speaks about his father as though the man is a living legend. The 23-year-old from Charlotte, North Carolina, says his father, the Rev. John Sanqiang Cao, is a passionate Christian minister, a devoted humanitarian and a man with "absolutely no quit in him, no matter the circumstances."
John Cao is also apparently a master of dad jokes, like the one he often tells about his Chinese name, which translates to "three talents."
"He loves to tell people the first talent is sleeping, the second is eating, and he hasn't quite figured out the third talent yet," Ben Cao told HuffPost about his dad.
But for more than a year, Ben Cao has been unable to speak to his father at all.
John Cao is a prominent figure in China's "house church" movement, a network of small, unregistered congregations that operate independently of China's state-sanctioned religious institutions. The pastor has been held in China since March 2017, when he was arrested while traveling back to the country from Myanmar. Chinese officials charged him with "organizing others to cross the border illegally," a crime The Associated Press claimed is frequently used to indict human traffickers.
But John Cao has crossed the border many times, bringing volunteers from Bible schools he's helped build in China over to his schools in Myanmar without incident.
Now, he faces a seven-year prison sentence, which his family and supporters believe is an unwarranted punishment.
Ben Cao and his older brother, Amos Cao, are pleading with the Chinese government to show their father mercy.
"I am deeply saddened, and devastated, by the incarceration of my father," Ben Cao said. "He is my mentor, role model, friend, and support system."
Faith In China
The pastor's arrest comes during a push by Beijing to "Sinicize," or make more Chinese, the country's major religions, removing perceived foreign influences and ensuring faith leaders' loyalty to the communist government.
Although the Chinese constitution officially guarantees citizens religious freedom, religion is highly regulated in the country. The state recognizes both Protestantism and Catholicism, but requires churches to register with one of three state-sanctioned Christian religious organizations. While state churches ascribe to core Christian doctrines, they also require pastors to be politically loyal to the government and give moral sanction to its programs. The government also maintains authority over the selection of clergy.
House churches operate outside of state-sanctioned Christianity, meeting in smaller groups in living rooms, factory buildings and restaurants. A 2010 report from the Pew Research Center suggested that 35 million of China's 58 million Protestants belonged to independent house churches.
The regulation of house churches is largely left up to local party officials. Some officials harass but ultimately tolerate these unregistered churches. But in recent years, the government has been exerting tighter control over house churches ― fearing that the independent religious groups could pose threats to the party's stability. Since at least 2015, government officials have detained Christian leaders, demolished churches and cracked down on Christian gatherings and activities.
Experts say John Cao's arrest could be part of the ruling party's attempts to exert authority over these independent Christian churches.
https://www.huffingtonpost.com/entry...b03c426da9241d